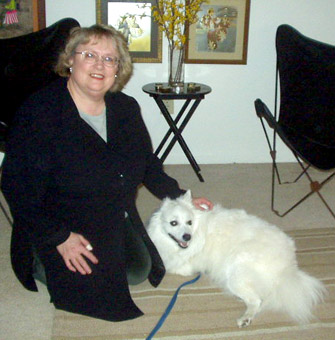 Nonetheless, Frosty had apparently conned several groomers, armed with expertise and muzzles, into thinking that his pantaloons were off limits. For a 25 pound dog, he has some nerve, I'd say. And so, it was with reckless abandon that I donned my heavy winter gloves and pulled out the grooming tools to rehabilitate Frosty's behind.
Normally, I would have let him settle in for a bit, but I had invited Carol over to meet Frosty and, hopefully, to adopt him. And, let me just say that Frosty was a long way from presentable. So, the fun began. In just over two hours I plucked two full bags of fur out of this dog. And, I am not without wounds.
However, when a dog presents this much of a grooming challenge...you can't just give up. You must persevere to find some strategy that will work. If neglected, eventually, the hair becomes so matted that it pulls and pinches the skin...which was part of Frosty's problem. Every time he got pinched, I got nipped. But, we got through it, and Frosty was in decent shape by the time that Carol and her friends arrived.