LADY DAY
This was a very special Christmas Eve for me. One of our sweetest dogs, Lady Day, was adopted by the Bing-Sawyer family in Concord, Massachusetts. A heroic rescue from the CACC by our Heart Bandits volunteer, Kevin Lewis, saved Lady Day from euthansia. She had tried to bite the shelter vet. After one hell of an argument, Kevin got Lady Day released and brought her home to Staten Island. When Kevin's vet examined, he discovered serious mammary tumors...and we feared the worst. But after major surgery, -- 4 mammary glands removed--she was released with an excellent prognosis. Back at Kevin's house, she found herself the only girl in a house full of alpha boys! Lady Day is one tough cookie; she was soon well enough to put the male dogs in their place. Once she was given a clean bill of health, we still didn't believe her chances for adoption were great, given her age and medical condition.
---
Evan, Janet, Jim and Kirby the Keeshond.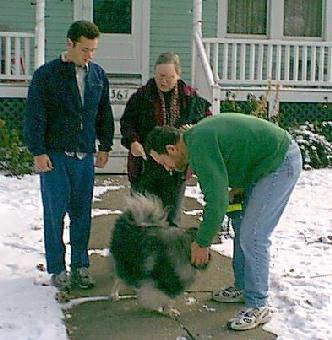 And then, right before Christmas, Jim Bing and Janet Sawyer contacted me, certain that Lady Day was the perfect "smart, pointy-noised bitch" for them. Theirs was one of the most entertaining applications I had received in a while!! It seemed that Lady Day had found a home, and so we began to make transport arrangements. I met Kevin -- the Saturday before Christmas -- at the Staten Island Ferry dock in Manhattan. We had our traditional pre-adoption chat in which Kevin grills me about the adoptors, and I convince him that he can't keep ALL the dogs!! As I drove up the exit ramp, I could see Kevin jogging behind the car, arms flailing --reflecting the usual "I can't let her go" expression. And, Lady Day was egging him on by looking as pathetic as possible as she stared out the back window. Two hours into the ride home to Massachusetts, Lady Day was straddling the front seat divider, resting her head on my shoulder. Every so often, Toot would wake up and give her a nasty growl, but Toot can't stay awake too long in the car -- so the ride was fairly smooth. I drove up to Concord, Massachusetts -- home of Walden Pond -- and spent a good part of Christmas Eve with the Bing-Sawyers and their rescue Keeshond, Kirby, watching Lady Day settle into her new home. I am sure that she will rule the roost in no time.
---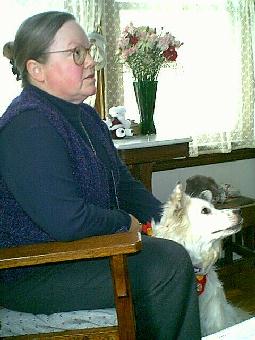 Denise Gareau