CHLOE rescued!
What a gorgeous angel this girl is! We received a call about Chloe from St. Hubert Girard Animal Sanctuary in Madison, New Jersey. The shelter workers reported a very distressed, frightened little girl. Chloe had been dumped by her owner and was traumatized at losing her home. Shelter workers could not get near Chloe for over a week without fear of getting bitten. They declared Chloe "unadoptable." So we decided to go see for ourselves. Typically, Eskies have a hard time in the shelter environment, so on one glorious Saturday, a few weeks ago, Denise Gareau and Tanya Bryan revved up the VW Cabriolet and trekked out to St. Hubert's to visit Miss Chloe.
---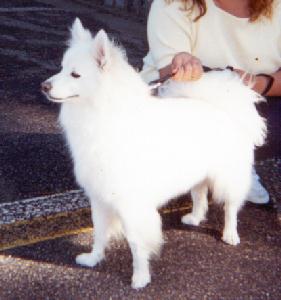 She was shy at first, but warmed up to us quickly; especially when she realized she was going for a ride in the car! At the same time, we met the Baumgardners, who were adopting Dakota; and we spent a pleasant afternoon on the beautiful grounds of St. Hubert's playing with the dogs! Chloe was such a good girl that the Baumgardners almost adopted her too! By the time we were ready to leave, Chloe was very much at ease. She rode home in Denise's lap curled up in a ball. By the time we reached Massachusetts, Chloe felt right at home. And then....she met the Angels From God: Nikita, Nadia and Patootie who could have been a whole lot more hospitable. Clearly, the Angels From God were highly annoyed at the amount of attention that Chloe was getting from Denise: they began trying to boss her around. Chloe and Nadia never did agree on sleeping arrangements on the bed.
---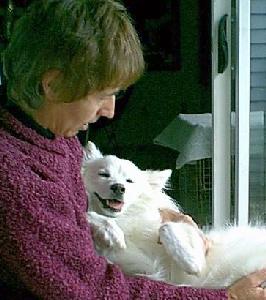 Chloe was such a good girl through all this, but she must have sighed with relief when Susan Becchia called to rescue her from The Angels From God. Susan came over to meet Chloe; and, as the picture shows, the meeting went well! After about an hour it became clear that Susan and Chloe were going to be inseparable! Susan has called several times with "Chloe Updates" and our little girl is doing wonderfully well. She is settling into her new routine nicely, and Susan dotes on her, so we know she is getting the love and attention she deserves!