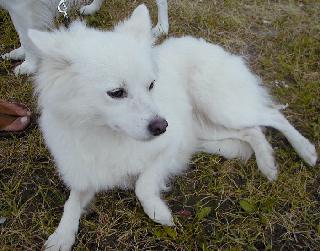 CHARLOTTE'S STORY
Charlotte was a very sad, scared little Eskie, when she was found by Peppertree Multibreed Rescue in upstate New York. She had been hit by a car, and left by the side of the road where she was discovered by the Peppertree folks. A local vet treated her broken leg without charge. Although her story and picture were posted locally, no one ever inquired about her, so she was taken in by the Peppertree group. Peppertree was unable to place her; the group specializes in larger, Retriever-type dogs. Charlotte was also very, very shy, adding to placement difficulties.
---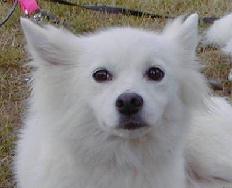 While in their care, Charlotte gave the Peppertree volunteers a scare when she slipped her collar at a clinic and went flying away like an arrow! It took five days and a Have-a-Heart trap to get her back. At that point, Peppertree called in Heart Bandits. Soon thereafter, Chuck Bruno and Denise Gareau, complete with Tara, Trinket and the Angels from God drove up to to Albany to sweet little Charlotte. She was a beauty! A shivering, shaking, frightened beauty, but nonetheless an adorable doll!
---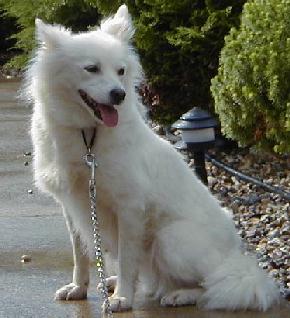 Miss Charlotte rode shotgun (peeking out timidly from her crate) as the group drove through Albany to take RileyTwo to his new home. She started to come out of her shell in the presence of so many fellow Eskies, and by the time she got back to Chuck Bruno's house, Charlotte was smiling, and relaxing by the pool!
---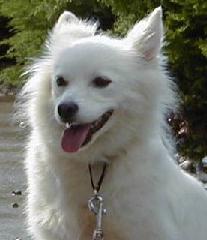 After a few days at Chuck's, Charlotte went to her new home, with Mr. Raymond Peterson, of Lynn, Massachusetts, a retired gentleman with lots of time and love to give Miss Charlotte! And, as a bonus, Ray and Charlotte will spend six months a year in FLORIDA! Our first reports from Ray were good....she was coming out of her shell and getting accustomed to her new home! Ray promises to update us soon!