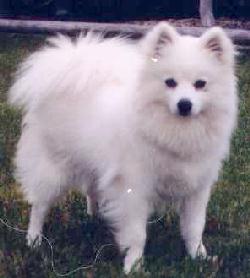 TRINKET'S STORY
Trinket is truly Daddy's Little Princess, as well as the Rescue Mascot of Massachussetts! She came into Chuck Bruno's life during the early stages of his involvement with Heart Bandits. Chuck had just begun to work with Bob Davis on the development of the Massachussetts Chapter of Heart Bandits, when he received the call from an exhibitor, who unfortunately had to give up Trinket.
---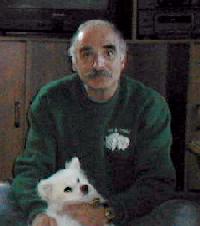 Chuck volunteered to foster Trinket, but when he saw her picture, he fell in love, and knew that Trinket was his baby girl. When Chuck went to pick up Trinket, she was a very scared little girl. Although she was a seasoned champion show dog at one year of age, Trinket had lived most of her life in a kennel without much human contact. She was frightened of change when she met her Daddy, Chuck, for the first time, and rode home in the opposite corner of the car, shaking the whole way!
---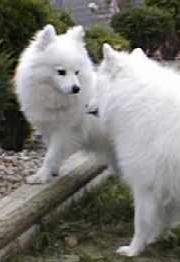 Chuck and Jacqui were determined to give Trinket a loving, stable home, and they started to socialize her right away. She met her big sister, Tara, and the whole family went to the tradional Italian Columbus Day Parade in Revere, MA. Trinket responded positively to the sights and sounds of the day, and slowly came out of her shell.
---
Now, at age four, Trinket is a friendly, confident little girl...who rides shotgun with her big sister Tara, on all of Chuck's rescue missions!
Contributed by Chuck Bruno (as told to Denise Gareau)
---
Trinket's sister Tara, foster sister Babe and Trinket, the little angel herself.

Visit Tara and Trinket's Page on the Web!