SPUNK THE PUNK MOVES NORTH
Spunky really lived up to his name! He was a sad little boy when he was left at the vet by his owner's family in Staten Island. Unfortunately, Spunky's owner was gravely ill and could not care for him anymore. Heart Bandits volunteer Patty Siefert picked up Spunky at the vet and fostered him. As soon as he got to Patty's, in Brooklyn, New York, Spunky came out of his shell and began to play with Patty's three other Eskies. After a week Patty was struggling with the idea of keeping him! Oh no--FOUR Eskies! Is she insane? Well, anyone who loves this breed knows well that they are addictive! In the meantime, Gerry and Cindy Gagnier, of Vermont, discovered Spunky on the web and immediately seemed able to provide the perfect home for this little boy. They were very, very anxious to meet him; so our Vermont foster mom, Lynn Esty, agreed to meet Patty in New York, in order to transport Spunky to his new home. Cindy Gagnier joined Lynn on the Vermont/New York journey. On the way back, Spunky immediately made himself at home in Cindy's lap. In fact, he became so attached--so quickly--hat when the ladies made a McDonald's pitstop, Spunky pitched a nervous fit when Cindy left the car! He rode the rest of the trip flat on his back in Cindy's lap. I believe there might have been some snoring. And so...all went well. Spunky is doing well in his new home, where he is getting the royal treatment! Here is what Cindy has to say....
Emma Esty introduces Spunky to his new mom, Cindy.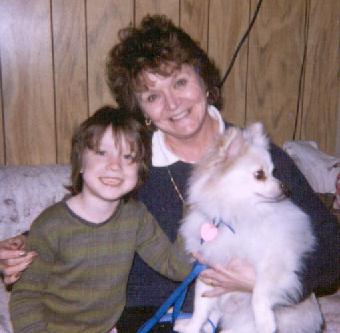 Hi Denise:
Spunky is doing great. He is a sweetie. We are still learning about each other;, but it is fun. He has not had an accident in the house and is real good about letting us know when he needs to go out. He loves to be outside. Walks great on the leash and is starting to come quickly when we call him. We want to try having him loose while we are outside but will take that slow. He is so playful and has decided that my husband, Gerry, is his personal toy. They chase each other around the house and when they get tired they lay together on the couch. He loves socks, especially if your feet are in them. He is learning "no bite" when he grabs the socks too hard. I am a little concerned about his chasing things so we plan to be very careful about what is around us. He tries to attack the lawn tractor and the garden hose when it moves. I told Lynn that I would bring up pictures or download them to you so that you can update the web site about him. Gerry has nicknamed him "Spunk the Punk". He really is a little punk. He brings us his toy and then takes it away from us and throws it around the room. I don't think we have laughed this hard in a long time. The first night when we got ready for bed, I put his blanket next to our bed, but he climbed up on the side of our bed and cried, so we picked him up. He kissed Gerry and laid at the foot of the bed. He sleeps until six every morning and then decides its time to get up and go outside. When we come in I say "go get daddy" and he runs into the bedroom and gets Gerry up. I am so glad we decided to take him. I will keep you informed about his adventures and send pictures periodically.
Thanks so much,

Cindy Gagnier