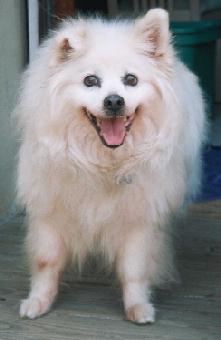 SHANNON'S STORY
Shannon is finally a happy Eskie again. She is settling into her new home in Pittsburgh with Erin Harper, her new owner, and an 11-year old miniature Eskie, Booger Bear, now Shannon's older sister. Health concerns can't prevent Shannon from enjoying a stable, loving home after a very difficult period of her life. Shannon first came to Heart Bandits' attention when we were alerted that the animal shelter in Guilderland, New York, had acquired an eight year old Eskie in need of medical attention.
---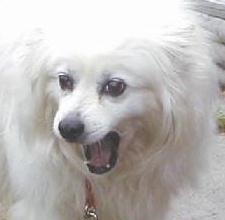 When Shannon's original owner was placed in a nursing home by her children, the children took Shannon to a vet's office with instructions that she be put to sleep. Unwilling to comply, the vet contacted the Guilderland Shelter. Workers there quickly realized that while Shannon is almost completely blind, she deserved a chance for a good home. Released to Heart Bandits, Shannon stayed in two foster homes where it became immediately apparent that this little dog had plenty of life left in her. She showed the volunteers who cared for her that she loves car rides, long walks, and--especially--playing in the water. She terrified her first foster dad by jumping into his swimming pool. At first he thought she had fallen in, but she persisted in trying to get into the water. The premature cataracts that obscure her vision, can't stop her from trying to enjoy life. Despite the poor condition of her teeth when she arrived in rescue, she demonstrated her affection for real meat treats, especially marrow bones! While with Heart Bandits, she had some dental work, removing decayed teeth so that she could really enjoy her chow. She got along fine with the many other dogs in her first foster home.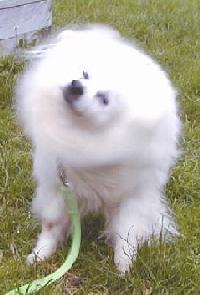 Erin's vet believed that Shannon is a good candidate for surgery that should improve her sight. In the meantime, the vet has begun to suspect that Shannon my have Cushings disease, a treatable but serious condition. Further testing is required.
---
In spite of these problems, Shannon has found a very good home with Erin, her husband, and Shannon's older sister Booger Bear. For more information on Shannon--including Shannon's own story--visit Shannon's Page on the Eskie Auction Site. With major vet bills on the horizon, Eskie Auction Central has organized a fundraiser--Just Julie's Eskie Sketch Fundraiser for Shannon July-Sept. 2000 !
The Eskie Auction site: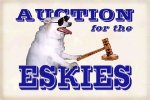 The Blind Dogs site was extremely helpful in our search for a good home for Shannon. This site lists resources for blind dogs as well as blind dogs available for adoption.