SCAMP
Shrimp Scampi was a hoot from the moment I picked him up at the CACC in Staten Island, New York. I had driven down from Boston, with Nadia in tow, in my rental car, which had been upgraded to a luxurious Grand Marquis. Nadia was under the illusion that we were going for a pleasure cruise, but she became suspicious once we got to the CACC. Fresh from his snip-snip surgery, The Shrimp bolted out the door like a torpedo. He annoyed Nadia all the way back to Boston. Upon meeting the other Angels From God, Shrimp Scampi proceeded to annoy Nikita and Toot as well! The Angels From God are not known for their patience with puppies. After a tense week in Quincy, Shrimp Scampi's new dad phoned about adopting. Tim Sorgi is one of "Quincy's Finest," a local police officer, whose family lives nearby. Tim brought his delightful daughter to visit Scampi, and it was love at first sight! Now they had the formidable task of convincing Mom and brother Evan that Scampi was the perfect dog for their family. So the whole Sorgi family came to meet The Shrimp, and Mom was a goner from the get go. No dog has ever worked a room like The Shrimp....he sat right next to Nicole, with his little paw on her knee, and both of them looked up at Mom, with those big, pleading eyes!! How could she say no??? And so, Shrimp Scampi went home with the Sorgis. And we hear that he is settling in well, and is a big hit with the neighborhood kids! We hope to hear from the Sorgis soon with more pictures!
---
Denise:
Just wanted to drop you a quick message re: Scampy's adaption to our home. He slept in the crate last evening and, except for about 15 minutes of barking, went to sleep with no problem. He was a HUGE hit with all the kids' friends and had an exhausting day playing with everyone in the snow! He is sooo good! (even Kim can't resist him). He had a few minor accidents with the housebreaking, but they appeared to be more out of nervousness than anything else. We have a vet appointment for Wednesday. I'll be in touch to let you know how he's doing. Thanks for all your help.
the Sorgis
---
The Shrimp made a real impression on the Angels From God while in foster care. You can read more about him in the Angels From God Chronicles.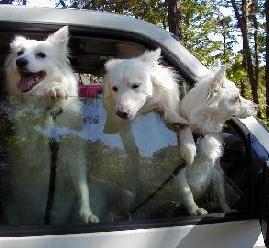 A special thanks to Dr. Trisha Glazier and Dr. Kathi Cowe of the Emmerson Animal Hospital, North Quincy, Massachusetts, for their help in providing the best possible veterinary care for the Eskies who pass through our Quincy foster home.
Update, February 2002!
Dear Denise:
Just a quick update on Scampy: He's doing well and is an integrated member of the family! We got the yard fenced in so he has the run of it. Most days I take him to "Dog Park" on route 3A in Hingham where he plays with many of the dogs there. Believe it or not, he likes to think he's in charge of the place, chasing all the dogs around! He's made quite a few friends there and looks forward to going each day. Hope all is well with you. The website looks busy and not too many available eskies which is good. We really love Scampy and thank God for you and the rest of the rescue group. Take care.
The Sorgis