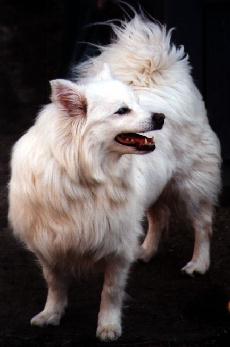 KOKO
NOW KNOWN AS PRINCESS
My husband, two sons, 14 and 4, and I have been searching for a long time for the perfect dog to add to our family. We found the Petfinders website and found the dog that seemed made for our family. Her name was Koko, and she was a pure-bred American Eskimo being fostered as part of Heart Bandits, a national, non-profit American Eskimo rescue organization. Her description only gave an inkling of her horrendous background.
---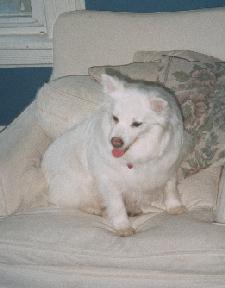 When I went to meet her in person, I learned more, and found her description to be accurate. She had been taken from a breeder about 2 1/2 years prior to our reading about her. She was taken with five other American Eskimos when their owner was charged with animal neglect and cruelty. While the court case against their owner was being decided, they were kept in a kennel, under the supervison of the ASPCA. After the court decision was made, they were made available for adoption (in January of this year). She, along with three others, were recommended to be put to sleep because they were unnapproachable and not able to be handled (wouldn't go on a leash). Her report said: "This dog growls and barks upon approach of the cage. He (they made the mistake on the paperwork) avoids the leash and was unable to be handled. Not a good prospect for adoptions." Denise Gareau, the area chapter leader of Heart Bandits, wouldn't hear of this, and took all six dogs up to Larry and Mary Conklin, who were willing to give these six Eskies a chance in their Connecticut foster home.
---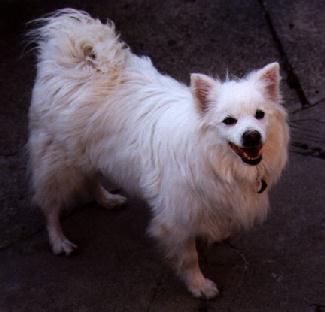 A few days later, Denise and another volunteer, Audra Eckes, spent the day bathing the matted, filthy, appreciative dogs and picking ticks off their infested little bodies. Not a raised lip, snarl, growl or stray eyeball during the ordeal, from any of them. Koko was lucky - she didn't have any major skin or allergy problems. Two of her brothers were not so lucky. They had raw, open sores and tons of hair missing. Koko had a few cysts removed, but made it through the operation and recovered beautifully. She was placed in a one-on-one foster home, and the foster parents (Audra and Jimmy) wanted so badly to adopt her, but knew they couldn't, as that would have closed a much-needed foster slot. As soon as she was put on the Petfinders website of the Northeast Chapters of Heart Bandits, applications poured in for Koko.
---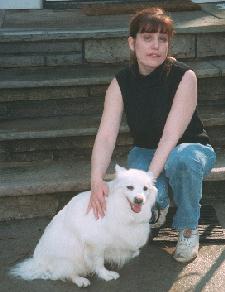 We were the lucky ones. She is now a happy part of our family. We have renamed her Princess. She is my shadow, and if she can't be with me, she'll happily snuggle next to any member of the family, even the cats! She walks beautifully on a leash (my 4-year-old helps me walk her). We have gotten to the point that she can go in the back yard (not fenced) without the leash. We also can release the leash at the corner on our side of the street and say "HOME" and Princess will run home do a few circles and wait for her treat! Within the first week, she was already working in cohoots with our two cats to get extra food. She greets every member of the family upon arrival home, and she sleeps on the bed with us. She loves attention and food, and will even take food gently out of our hands. We have recurring groomer appointments every eight weeks, and she does know who she is after the visits! She is constantly amusing us. She's so funny when she wants to crate herself and for some reason her crate is shut, Little Miss Princess will go in the cat crate! She also likes to try out the scratching pad with cat nip! Princess truly is the dog we had been searching for. I trust her completely with my children and my cats and am so grateful we found her. Whoever does these evaluations should re-think how they do them, and perhaps take into consideration the condition of the dog, the environment they're in and were in. All this dog needed was some love, attention, and food. Thanks to Heart Bandits and Petfinder, she now has that - and we have the dog we've always wanted!
Thank you,

The Malloy Family

Visit Petfinder--an excellent source for shelter and rescue animals for adoption--by clicking on their logo:

Visit Heart Bandits Northeast's home on Petfinder: http://hbeskies.petfinder.org