PECO FINALLY FINDS HIS TRUE HOME
Peco was given up by his original owners because they had kids -- sadly, a familiar story in rescue. Suddenly this boy's family had no time for him; so they surrendered him to the wonderful folks at Second Chance Boxer Rescue in Maine. Thus began Peco's oddysey to his forever home. The Boxer Rescue folks had a tough time placing Peco; but they did find him two consecutive homes that gave him back because of his intrinsic Eskieness....Barking...Suspicious of Strangers... imagine that--an American Eskimo Dog that barks....and protects the home and family???? Of course he is suspicious of strangers...they are strange! Every Eskie knows this. So, finally, Julie Tracy of Second Chance phoned Denise Gareau of Heart Bandits to ask for help with Peco. Denise had the perfect human in mind for Peco, so she drove up to meet Julie in New Hampshire, and then, later that Sunday evening, introduced Peco to his new owner, Carl Reppucci.
---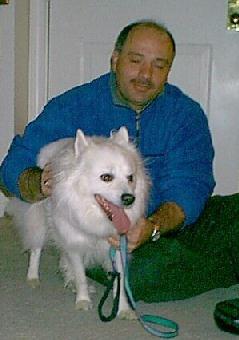 What a match this was. When Carl entered the apartment, Peco started to run his big mouth. Then when Carl sat on the floor, Peco transformed into the biggest mush in the world. Carl kept petting him and commenting that he was the most beautiful dog he had ever seen! After about fifteen minutes, Carl and Peco were great friends. It looked as if they had been together for ever. Carl left with Peco, eager to introduce this wonderful dog to his family, especially his two daughters! Here is our first note from Carl. We look forward to updates and more pictures!
Hi Denise,
Peco is doing great! The kids are absolutely thrilled. They want to rename him Flurri! Nice name but not sure. We'll see if he responds. Again, thank you for everything. He's more than I ever expected.
Carl G. Reppucci