MAGIC
Our boy Magic got off to a rough start. He was found as a stray in western Massachusetts and picked up by animal control in Chicopee. After nearly a month in the shelter, his spirit was nearly broken, but we could tell he was a real sweetie. Magic found a home with a fine family on Cape Cod, but, sadly, the family's new baby girl, Angelina, developed a terrible allergy to him. So they returned him to Heart Bandits.
---
---
| | |
| --- | --- |
| | This was good luck for the Hurley Family!! John and Lori Hurley brought their three boys to visit Magic. Although he was a bit timid at first, Magic warmed up quickly to the attention of so many energetic kids. The meeting was a success--the Hurleys took Magic home to their farm to meet the horses and cat. Magic has moved in like he has always lived there! And, he quickly picked out his favorite horse! The kids changed his name to Rufus (the boys overruled their mom!!), and he is happily being spoiled rotten! Rufus has a bed in every room so that he can have a change to relax, always in close proximity to the family. He loves the boys and meets their school bus each day, where he receives his daily biscuit treat from the bus driver. Eskies really know how to work a crowd! |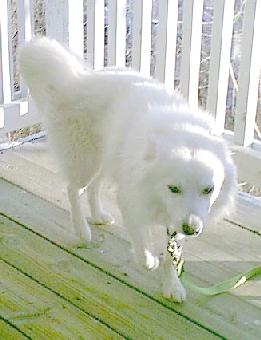 In fact, when I last spoke with Lori, she was taking Rufus on a day trip to Foxwoods Casino. She was going to "sneak him in" to meet her friends. Well, who knows? Iif he wins enough at blackjack, they might give him his own suite. What a great ending for Rufus! Lori promises us new pictures soon!