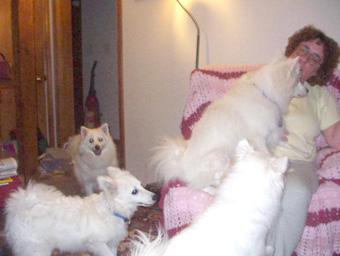 Kemo made his way to Cindy's place, brimming with Eskies.
After a week, I had the perfect adopter lined up for Kemo, and we moved him to Cindy Halliday's foster home in Maine, along with Dinah, who was awaiting her ride to her new home in Virginia. Cindy phoned me after I left to tell me that Kemo was one of the best dogs she had ever had and she absolutely loved him. I could not believe my ears, but it was true. And, I give full credit to Miss Dinah for the transformation.
And so, we arranged a couple of adoptions at Cindy's, one for Kemo and one for Shy. Through the wackiest technological snafu, Kemo's adopters lost touch with us. Between their cell phone and Cindy's cordless, we could not give them directions. So, we proceeded to meet with Shy's potential adopters.