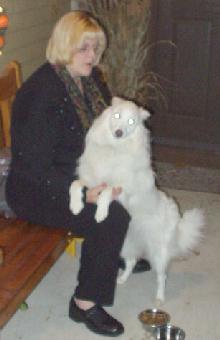 Diane and Snowball get to know each other.
When she arrived at Diane Gonzalez's home in New Jersey, we had nine Eskies visiting, including The Angels From God. Snowball was a mess. She was completely terrified of us and of the other dogs and hid in her crate. After some coaxing, Snowball began to respond to Diane. And, Snowball's progress accelerated as soon as the Angels From God hit the road.
It took almost a week for Diane to convince Snowball to pee outside. Once she did, I was treated to a celebratory 7 am phone call...."Snowball made potty outside!!!!" We, in rescue, find pleasure in life's minutia.