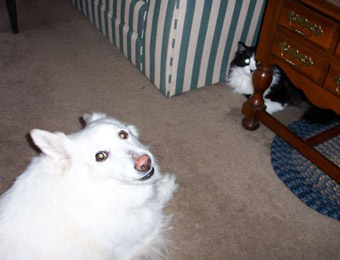 March 9, 2005
Hi Denise,
It's not often I get a chance to take a picture of Jilly with one of the cats, so I thought I'd take the opportunity to send you this one. Jilly was lying on the floor eating her Greenie, which she has every day after dinner, as recommended by our vet. Marty was lying in the corner just about a foot and a half away, and they just paid no attention to each other. Jilly is always very mellow when she has her Greenie.
Jilly continues to do very well, and her behavior with the cats is constantly improving. She usually ignores them unless one of them gets right in her face. If it's Marty, she'll quickly retreat, since she is afraid of him, and with good reason. His paws are quicker than Jilly's jaws. If Banjo, our smaller cat, gets in her face, it's more of a problem. She'll usually try to ignore it, but occassionally she will still snap at Banjo. We have to be on the alert to keep Banjo from going right up to Jilly and sniffing her. Banjo is not too bright. Of course when Jilly does snap, we quickly reprimand her, send her to her crate, and she does understand. Most of the time, Jilly and the cats wander around the house together with no problems. This is a huge improvement over the way she was when she first came to us, and we are very pleased.
We'd like to thank you again for bringing Jilly into our lives. For a ten year old dog, she is quite active and loves to go for long walks. We are looking forward to the warmer weather so that we can walk more and she can get reacquainted with her friend Harley, the nine year old Golden Retriever. We tend to be pretty isolated in the winter up here, because the roads aren't really safe enough to walk very far, with no sidewalks and lots of snow. Jilly has her own fenced in section of yard, so she gets enough exercise, but she does really enjoy the walks. We know it's also important to keep her socialized with other dogs and people, so we will definitely get back into the walks where we meet lots of people and dogs, just as soon as the weather improves.
I 'm constantly checking your website, so I see you've found homes for lots of beautiful Eskies in the past few months. Your dedication to these dogs is amazing, Denise. I don't know how you do it, but I'm glad you do. Please let Dianne know that Jilly is doing very well, and I'll stay in touch.
Elaine