SNOWBALL and NIKKI learn to be brothers
These two fiesty boys were adopted together! Snowball had been around our system for a while, after Denise and Ann sprung him from the New York CACC in March, 2000. It was a horrible rainy night, and the ladies and Snowball were stranded in upper Manhattan trying to hail a cab. At long last a NYC livery driver in a blue Lincoln Towncar, with blue velour seats, graciously picked us up and took us downtown to the Staten Island Ferry. Snowball, also graciously, left a smear of wet, Eskie fur in the back seat to thank the driver for his trouble!! We met Kevin Lewis at the Ferry, and joined him and Snowball for the first-ever Heart Bandits Seafaring Rescue aboard the Staten Island Ferry. Snowball spent several months at Kevin's place negotiating his pack position in a very busy foster home! I don't think he misses those border collies one bit!
---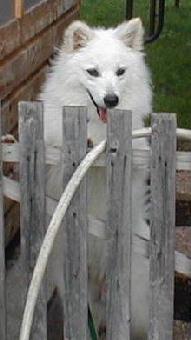 On the other hand, Gino was sprung from Boston Animal Control by Chuck and Denise in Massachusetts. He was a perpetual runaway, jumping the fence in the family yard. This was his 5th escape, and his family gave up on him and left him in the pound. When we met Gino, we were stunned at how beautiful he was, and also at how he had not one bit of training whatsoever! At a year and a half old, Gino was a strong, unruly boy who had mastered the high jump! Snowball met Gino when he was moved to Chuck Bruno's home in Massachusetts, and the boys began to quibble over pack position. Soon thereafter, Dick and Debbie Connelly, and their two teenage daughters, from Fairfax, Virginia, inquired about adopting two eskies. Chuck Bruno met the Connellys in New Jersey and showed them several eskies, and they just fell head over heels for Snowball and Gino! (Ah, the pursuasive powers of teenage girls!). So the boys went home to Virginia, and by the time they reached their destination, each dog had claimed his very own teenager and Gino had a new name--Nikki! And, then the games began. We received several "we are at our wit's end" calls from the Connelly's over the relentless squabbling between the dogs! We put the Connelly's in touch with our rescue trainer who talked them through the issues.
---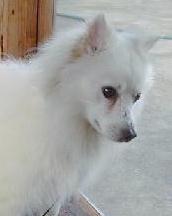 Over the next few weeks, progress was made, as Nikki gradually agreed to let Snowball boss him around! Once the pack structure was settled, Dick Connelly reported that boys are very happy, and play together in the yard. Things are working out fabulously! We have to give the Connelly's credit for sticking by these boys during some tough incidents, and having the patience and persistence to let the situation work itself out in the first two weeks. We look forward to hearing more from them in the future!
---
---

Nikki and Snowball: It is not often we get to follow up in person with the eskies we've placed out-of-state. Audra was lucky enough to be able to visit Snowball and Nikki's new forever home in beautiful Virginia. She was thrilled to report that they looked happy and healthy and it was clear they were loved and gave lots of love back. Their rocky start has ended in a peaceful truce in which Nikki accepts Snowball as alpha. They do run around their heavily wooded yard together, gurading their family. They have an invisible fence and their dad was impressed with how quickly they learned how to utilize it, especially Snowball. "The boys" as they are called, each picked their own girl. Their parents were incredibly hospitable and the entire family was an absolute joy to be around. Looking forward to more updates from their family soon.