LUCKY
Frosty, now known as Lucky, came to Heart Bandits as an energetic puppy who had been placed in at least three homes out of a huge animal shelter on Long Island. All three times he was returned. One of the volunteers there contacted us to see if we could place the puppy in a permanent home. Frosty was one of the most beautiful and loving eskies ever to have entered the system in the Northeast. He didn't have any major behavior problems -he was housebroken and obeyed basic commands, and was very eager to please. He was just very energetic and liked to bounce. He was not destructive or aggressive in any way. It devastated all the volunteers who worked with Frosty to hear of his problems finding the right family. Once in Heart Bandits, problems finding a family continued, and he was returned twice after being placed.
---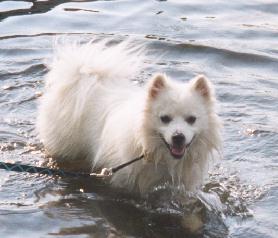 The third time he was placed through Heart Bandits turned out to be the right family for him. He fit right in with his new family immediately upon arrival. He even jumped right in the lake that very first day (plus, rolled in the dirt and leaves after having been groomed earlier in the day!). He continues to love the lake and his mom is convinced he would swim clear across it if he didn't have a leash attached! His new mom and dad couldn't be more pleased. They are diffusing his energy with long walks to the lake (and swims) and plenty of play time. He even has another Eskie to play with - his cousin!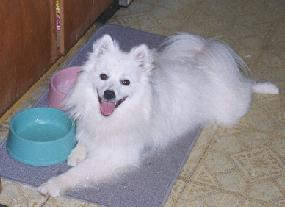 He is responding beautifully to obedience training and his new mom and dad feel they are lucky to have found him, hence the name. We at Heart Bandits also feel he is lucky to have found them, so Lucky seems like the perfect name.
---
---
---