FRECKLES
Found as a stray on Long Island and taken to a local shelter, this sweet little Eskie was named Phil by shelter workers who thought he was adorable. He was clean, free of mats and tangles, and apparently had been well-cared for. The shelter workers were surprised that no one came to claim him. He was released to Heart Bandits and placed very quickly--with the Depew family of Neodesha, Kansas. Here are two reports from his new family.
---
---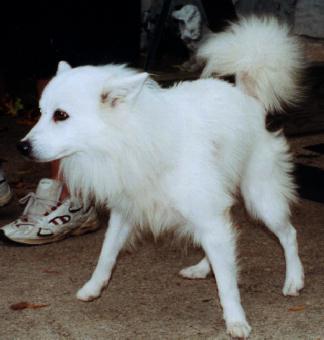 November 19, 2000
Dear Audra,
Freckles (a.k.a. Phil) is wonderful!!! He has settled in very well in the house, and he and Ralphie get along so great! It's been fun watching them play...something we had never seen Ralphie do since he's been an "only dog" with us. Freckles likes exploring all over the backyard and chases the boys around. Boy, is he FAST! We gave him a bath last night when he came inside and he was surprisingly calm during that. He'll be beautiful when all his coat grows full again and we can trim out the discolored areas. (He looks amlost BARE next to fluffy Ralphie!) Freckles' personality is so terrific...such a mellow little sweetheart. I don't think the other families who looked at him could get past his poor appearance to see the fine heart within. We can't wait to see how good he looks in six months! You might not even recognize him! We'll send you some pcitures as soon as we get them developed. We have a lot to be thankful for this season and we appreciate all your hard work in getting Freckles to us. He's making himself right a t home! Take care.
Best regards,
Dennis and Shirley Depew
---
Freckles with Audra Eckes before his flight to Kansas.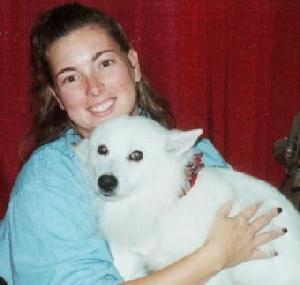 Hi Audra!
We are so glad you are back on-line now! We wanted to call you with updates on Freckles but knew how busy you are trying to place other dogs. We keep checking in to HB website to see all the new dogs and those that have found new homes. Freckles is just doing great!!! The greatest thing is he and Ralphie just adore one another! It's been so fun to watch them play, as we have never seen Ralphie play with another dog. They are really buddies. Only two actual dog fights...only 10 seconds long (but scary, nonetheless!) They even share the same food bowl even though we have two! When Dennis took Freckles to our vet to have his itchy skin looked at, you would've thought Ralphie had lost his best friend. He kept going to the back door where they left and then would look at me, like "Where is Freckles???" So, the bottom line is Freckles has definitely found his forever home here! Freckles' personality is just terrific! He is so sweet and always wants to be loved. His favorite spot is someone's lap and he snuggles right down and goes to sleep when we pet him.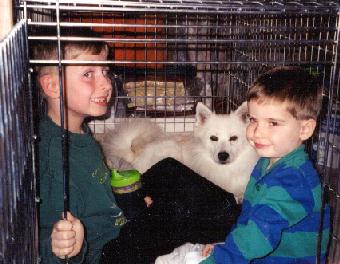 Our sons, Derek and David, just adore him and Freckles seems to love them as well. I think he knows he has us all wrapped around his little paw! As you know, he came looking rather scruffy. We got him on California Natural food which is really good for dogs who may have food allergies and with all his itchy skin problems, we thought this was best. Well, both he and Ralphie love the food, and Freckles' coat is already twice as long as when he came to us a month ago and is very soft and shiny. We can't wait for the brown stains to grow out, which they are slowly doing. We also bought special vitamins that help the coat. We keep telling him that in six months he'll be as furry as Ralphie! There was a very scary moment a week or so ago where he scooted out the front door when Derek was going outside and ran off. Thankfully, we found him minutes later a block away at a church (we think he has a thing for churches since he was picked up in New York at one!). It frightened all of us so much, and I don't think Derek will ever use the front door by himself again! It was clearly an accident as Freckles nearly knocked Derek over getting by him, but it panicked all of us. We don't want to lose him ever! Freckles and Ralphie both have dog beds in our bedroom where they sleep at night. Freckles is free to roam the house and so far he's been good. We still have the large cage set up in the family room but we don't use it to confine him when we leave anymore.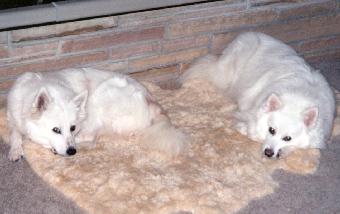 Oh, he's chewed the sheepskin rug that he and Ralphie like to lie on so we finally put it away and he tried to chew my slippers and a few of the kid's toys but so far it's all been pretty minor stuff. He does this defiant barking thing that annoys us but it's when he wants something (that he doesn't need!) and we ignore his begging. When he first came, he did it more but it has tapered off some. Overall, we just love him so much, and we are so glad we found him to take care of. I think it was fate that we got him...he's a super little fellow! Let us know if you received the pictures Dennis sent to you. Denise had emailed us and we just bought the scanner and so you are the first recipient of Freckles' photos! We can't wait to see his story on the website! I think I've read all of them--they are so heartwarming! We haven't taken a photo with all of us in it yet; we'll probably try to get one soon and you can add that to his story page. As you can tell from the pictures sent to you, I'm always the one behind the camera!!! Freckles doesn't like to pose for the camera as well as Ralphie, so it's hard to get a picture with both dogs looking good! Thank you so much for everything you've done. We are forever thankful for our sweet Freckles!
Have a very Happy Holidays!
Shirley Depew
Phil with HB volunteer Helen Horton, meeting visitors to Long Island Pet Expo before boarding a flight to join his new family. Click on his name to see Freckles with more admirers.
from the Depew Holiday Newsletter...
"Apparently nervous about the upcoming senatorial electon in New York and tiring of his beach home in the Hamptons at the end of the summer season, a four year old American Eskimo dog decided it was time for a change in lifestyle. Little did he realize how much his life was going to change. After his escape from his previous owner, the dog was picked up by the Heart Bandits Northeast Alliance, part of a nationwide organization established to rescue American Eskimo dogs and place them in new homes. After his"capture", his picture and story were placed on the chapter's web site.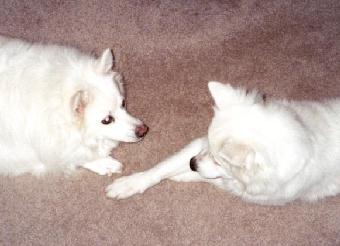 Ever since we had adopted Ralphie (our great three year old American Eskimo) from the shelter in Nebraska last fall, we had thought about getting another dog so that he would have a companion. After a return trip to Nebraska in the spring, we were unable to find what we were looking for. Then one day, much in the same fashion as she found Ralphie, Shirley was surfing the internet and came to the Northeast Heart Bandits web site. After looking at the picture of this dog, named "Phil"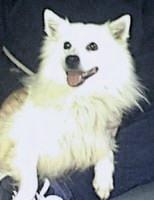 and reading about his story and personality, we sprung into action and began our inquiries about him. Our first attempt was met with the response that there was an adoption pending on Phil. We had been looking closer to home, but had not been successful despite many hours of web searching and a trip by Shirley to Wichita to check out some dogs. We kept coming back to Phil's picture and story and wondered why his web page was never marked with "adopted" or even "adoption pending." After two weeks, we again contacted the shelter and told them in no uncertain terms that we wanted Phil. The other adoption had fallen through and they had not realized how serious we were. Little did we realize how many hassles we would have setting up a flight for Phil to fly from New York to Kansas City. We were at wit's end when our friends from HUA, the Nebraska shelter, came to the rescue and helped us cut through the red tape of the airlines. On November 18th, Phil flew non-stop from LaGuardia to KCI and Dennis was there to bring him home to his new family. Upon his arrival, we immediately noticed the four dark spots under the fur on his nose, and we decided to rename him Freckles. Already housebroken ad a lover of other dogs and children, Freckles has been a terrific addition to our family. Ralphie loves him and watching the two dogs play together has been a real treat. Who would have guessed that this Long Island cutie would have wound up in Neodesha, Kansas?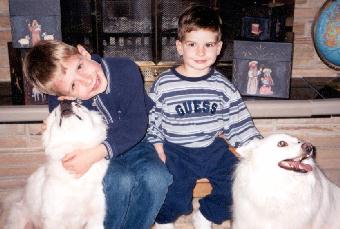 Freckles and Derek, David and Ralphie
Hi Audra! How are you? We wanted to send you a quick update on Freckles! He and Ralphie continue to be best of friends and we are so lucky they get along so well. Freckles' fur is growing out nicely and we decided to let the discolored spots just "shed" out instead of trimming them out. Maybe by the end of 2001 they will be mostly gone. He such a lovey thing! He loves to curl up in our laps and just go to sleep...very content. We all just love him (and Ralphie) so much. The cut he had on his eye when he came has healed completely, not a mark at all on his eyelid. We'll send new pictures soon. Thank you so much for helping us adopt him! take care! Best regards, Dennis, Shirley, Derek and David Depew