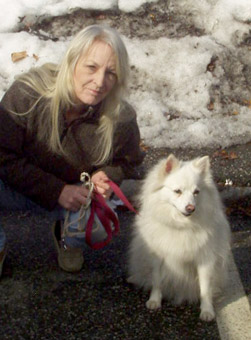 February 3, 2008
Hi Denise,
Just want to let you know, we had a nice quiet ride home, every time I looked in the back seat at Foxy, he had a great big smile on his face.
When we got home, I walked him around the pen, and he did his business, then we took a tour of the house. He follows me where ever I go, and not even being home an hour yet, he is on the couch with me laying in back of me, back to back, taking a nap! So he is settling in quite nicely, and seems content, I believe everything is going to be fine, once Bogie gets a hold of him, Bogie is drooling which I have never seen him do before, must have something to do with the smell of Foxy. And of course Bogie is very concerned about me right now, but I will work on that and his confidence up that he is not being replaced or abandoned. Foxy is doing better than him!
If I don't call you in the morning, I will email you before I leave for work.
Best to you and your new Eskie coming in today.

Susan