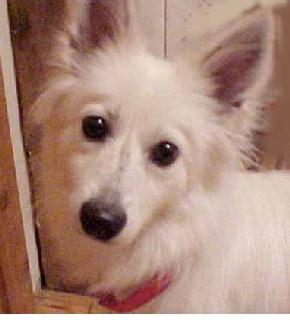 FELICITY AND KAYLA
My daughter Laura and I had lost our beautiful black lab mix, Inca, a few summers before we accidently stumbled upon an eskie pup during a visit to Central Park in New York City. I was so taken with the pup that I went home and searched the internet for everything I could find on the breed. I contacted the Heart Bandits NYC Chapter Director, Beth Root, who told me about a sad, needy girl who was waiting for a home in a NYC shelter. Laura and I drove 70 miles from New Jersey to NYC to see this little girl. She was so, so skinny, sad, and scared, and, she spoke only Spanish!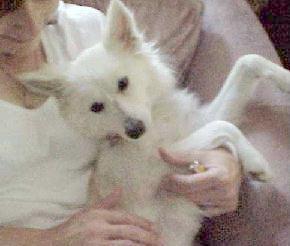 It was love at first site! We named her Felicity since she "fell from Heaven into the city", and then, she fell from the city into our lives so gracefully. It was a "Felicita" ("good thing" in Spanish), corny but cute. She fit in right away, but she kept looking out the window like she expected someone. I felt so sorry for a city dog that was used to noise and company. We called Beth and asked for a friend for Felicity. Beth and Denise of Heart Bandits now had another young female, Kayla. She had been found by a police officer roaming in the Queens subway. Imagine being abandoned in the subway!
---
We drove into New York again to pick up Kayla. (We kept this name.) We met Beth in front of her apartment and the first thing Kayla did was bite me! She was a tough, feisty little girl, so different from Felicity! . She was scared but I knew she needed us and we needed her too. We wanted to thank Beth and Denise somehow, so we volunteered to foster a beautiful little boy, named Apache, for them.
---
I tried so hard to do the right thing by him. He is the most beautiful of the three, not only in looks, but in friendship and soul. We worked with him a lot but I think he need to be top dog, in a one dog house. We were very pleased that Apache was adopted by Jean Darnell and her family in New Hampshire. It is so rewarding to see these little loves find their forever homes! Our home was a stop along the way for Apache to find his forever family, and now I get to see his pics and hear his stories on the eskie e-mail group.
We are grateful he has all the attention he deserves. Thank you, Saint Francis for Jean and her family -- they answered our prayers. Felicity & Kayla miss him too because they all got along so well. We are so happy that we have the love of our beautiful girls, Felicity and Kayla. They give us reason to keep on plugging!
Love, Theresa & Laura, Felicity & Kayla

click on the postcard to see Apache's story---->