By this time I had joined Heart Bandits as a foster home, and I invited Emma to join our pack. That's how Emma ended up in my home: one of the many foster homes for Eskies between the time they're lost and the time they find a forever home. Emma was here for a while, and maybe that's why Lucky decided to take matters into her own hands.
That day, as I carefully opened the gate to the driveway, I was mindful of Bear, who is always looking to sneak out past my feet, but I never thought to keep on eye on Lucky. After all, Lucky hates the car, and has everything an Eskie could ever need (amenities including a pool, land to roam, playmates, unlimited food, peanut chew bones, and access to all the furniture).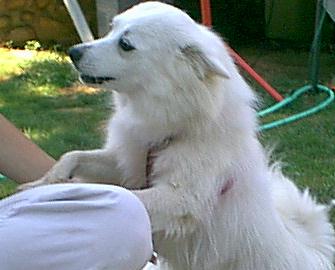 Lucky decides to take matters into her own paws...