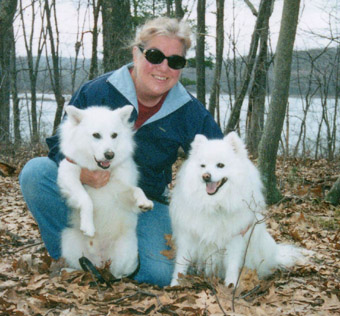 Barbara with Guliver and Duke.
Hi Denise:
We are having so much fun with Gulliver. He had traveled around so before coming to us that we thought the name was appropriate.
He and Duke get along and seem to respect each other. As you will recall, Duke is afficted with kidney problems. He is holding his own, healthwise, but is not up for full-out play. Gully has found a best buddy next door. Murphy was adopted as a puppy one year to the day before Gully, and they are the same age. Their energy level is amazing, and they run themselves into exhaustion, which is greatly appreciated by the older dogs with whom they both live.