BUDDY

Buddy was adopted, sight unseen, before he made it onto the website. This gorgeous goofball of a pup came to Heart Bandits after following two Rottweillers home. He was covered with fleas and ticks, very underweight, malnourished, lethargic and had severe diarrhea. A vet discovered he had worms. Back in his foster home, he began his long road to recovery. His foster mom called him Lucky; his foster dad called him Buddy. They cleaned him up, picked off the ticks, and found his owners. But when his foster mom saw the condition of his owners' house and saw the miserable, tiny outside area where Buddy was kept, she refused to return this young dog. The owner's response: "I don't care - that dog couldn't be housebroken anyway." At this point the foster family contacted Heart Bandits for help.
---
| | |
| --- | --- |
| When he was picked up and brought to Long Island, he was in much better condition, but still a very sick little puppy. His new vet on Long Island estimated Buddy's age to be six months and gave him special gel to help him gain weight. Buddy was very patient and calm at the vet--a very good thing since he would have to make many more visits before he was strong and healthy enough for adoption. | |
---
| | |
| --- | --- |
| Meanwhile, a new family was ready to adopt--even without seeing his picture. They called almost every day to check up on how he was doing. They were repeatedly disappointed when their first meeting was delayed, but their patience paid off. The meeting was love at first sight for everyone, including the new family's first Eskimo, Allie. Buddy fit right in and seemed quite content. He ate bagels with the humans, ran in his big backyard with his new Eskie-sister and snuggled on his new human-sister's bed. Buddy has a wonderful new family-- a mom, dad, 16 year old human sister, 14 year old human brother, and 2 year old Eskie-sister. We will hear more from them soon, and we will post pictures of Buddy's first day soon. | |
---
News about Buddy--from Buddy's 16 year old human sister, Chrissy:
Hey Audra~

How are you well we love the Boo Baby so much (that is my nick name for him--that or Booboo). He adapted quickly and, well, he doesn't hump Allie anymore. He loves licking Daddy's head before he goes to sleep, and it is sooo cute... I should be getting pics soon, so ill send some to you, ok...He is gettting sooo big but he is such a big luv bug, I love him so much .....He is much healthier now, and he's getting a lil pudgy, but it's still all cute. The way that he looks at you when you say something to him is also so adorable. We love him altogether even though he falls down the stairs and falls off of beds and things all the time...He loves to clomp around with his big feet and make alot of noise ... He barks at people now and is still a little skitish of men, but that's ok. He's getting much better. Well, I have to go. Talk to you soon,

buh bye chrissy
---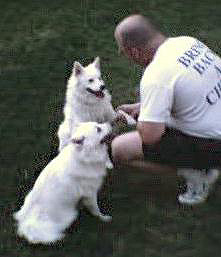 Allie, Buddy and Buddy's new dad.
---
update June 2005
Hey Denise~
About 3 years ago i adopted Buddy from Audra. Well just to let you know he is the greatest thing that could ever happen to me and my family. Even though i am his big sister and he is constantly beating me up and chewing on me because i think he thinks i'm his toy, he is the sweetest thing ever. He has brought so much happiness and love to us. Allie his eskie sister still gets jealous if we pay more attention to Buddy than we do her but she's not as bad now. And when they cuddle up together and just lay there you just wanna squeeze them. Buddy is so energetic and loves to be outside with his human brother Joey(15) and his eskie sister Allie. When it's time to relax he either lays at your feet and keeps them nice and warm or finds the smallest space on the couch and sqeezes in next to you. Every night there is a ritual between him and our dad. He climbs on to the back of the couch like a cat and licks our dad's head before they go to sleep. Nothing like having a doggy shower well bath. His training went great we didn't send him anywhere we did it our selves and he doesn't have any accidents in the house and he is not in a crate anymore. To let us know he has to go out he barks and looks at you and the door and then bounces like tigger. That's what his name should have been. Well i think thats all i have to say about my Buddy Bear except that he is the love of my life.
thank you
Buddys human sister (18), Chrissy