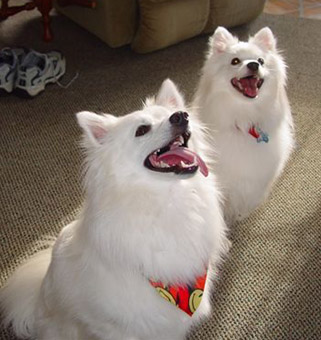 January 29, 2005
Hi Denise,
Angel is adjusting rather well. She is wonderful with Halo and is so excited to go out and play in the fenced yard. They run their little legs off chasing each other, then come in snow covered and tired. Take naps, and then start playing all over again. They are both non stop energy. (in a fun way) We are really happy with her.
We are concerned about something though. Her write up stated that she was "Daddy's little girl" and held a lot, but she is very nervous when we pick her up. We can not get her to come if we call her, so trying to get a leash on for a walk is next to impossible. She is quick to get petted if we are sitting and she, at her own pace, comes over to us. We are not forcing the issue considering she has moved 3x in the last month. She is allowed to sleep on the beds and go on the couch. We encourage it actually. She is very very excited to see us if we have been out and she greets us at the door with the Spitz bark. We were hoping that she would have warmed up enough by now to want to cuddle and play with us. She has warmed up to Sam (our son) and is all over him. She is curious about the cats, but since Halo and Angel look alike, the cats have no idea that there are 2 dogs in the house. Angel has no aggression what so ever with them.
We are working with Angel on coming when called (treats) and not being so nervous. It's odd that such a pampered pet would have this trait. With your experience, have you ever seen an Eskie act this way when placed in a new home? When we got Halo, he just walked in the front door and from day one, he "was home". He goes to the extreme when it comes to cuddling. He is a very mushy dog. We need to get the collar and leash on and get her walking. She absolutely loves the yard. She chases the squirrels and barks to come in. It's very cute to see her and Halo play in the snow. They run like the wind together.
We'll keep you posted on our progress. If you have any advice to help us get through this situation, please email us.
Thanks for writing.
Nancy, Kim and Sam