ABIGAIL'S NEW HOME
Dear Denise,
Here is an update on Abigail---
Our first week with Abigail was a stressful time for all of us- especially Abby. I think she had been in so many different places she wasn't sure where she belonged or what she should do. I suppose changing her name from Crystal to Abigail didn't help, but the neighbors had a nasty old dog named Crystal so the baggage that came with the name was too much for any of us to bear. She spent a lot of time sitting by the door like she was waiting for someone from her past to come and take her home. Our hearts broke to see her sad expression. I can't tell you how wonderful and supportive the Rochester Heart Bandits group was during this first week. Lynn, Tom, and especially Melissa spent more then the required amount of time giving us great ideas for helping Abby adjust to her new situation and helping us adjust to Abby. After a couple weeks most of the problems vanished, and I can't tell you how happy we all are. She loves people but still doesn't like most other dogs. I wonder if her missing ear tip was a scar from a previous bad encounter. Being a rescue dog I guess that is something we will never know about her.
---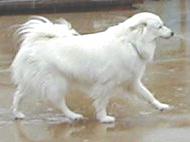 Abby loves to take walks at the Rotary Sunshine Camp next door where she is always praised and petted by the kids. Even better are the walks in the woods where she can play in the mud and roll in all sorts of smelly things. Good thing she likes bathes! She loves her little sister Juno; despite the fact that Juno can be quite the pest. And Juno adores her big sister. These pictures were taken on our recent vacation and I thought everyone might enjoy seeing Abby and her sister having fun. Abby loves to ride in the car and has taught her sister Juno that car rides are fun, not scary. I love to watch the dogs interact with each other and seeing how strong they have bonded makes me realize that having two dogs makes all of our lives happier.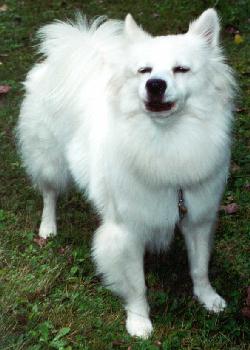 I think my favorite thing about Abby is her great range of facial expressions. She has a wonderfully wide grin as well as lots of other funny faces. You can see one of her better ones in this picture! How can you not smile and laugh when she does this? She has definitely added humor to our lives. Her affection is unbridled and her fondness for "french kissing" unstoppable. Abby still sits by the back door but not nearly as much as she used to and that horribly sad expression hasn't been seen in a while.
Thank you, Heart Bandits, for giving us Abigail.
Martha Zettel and Bill O'Neill